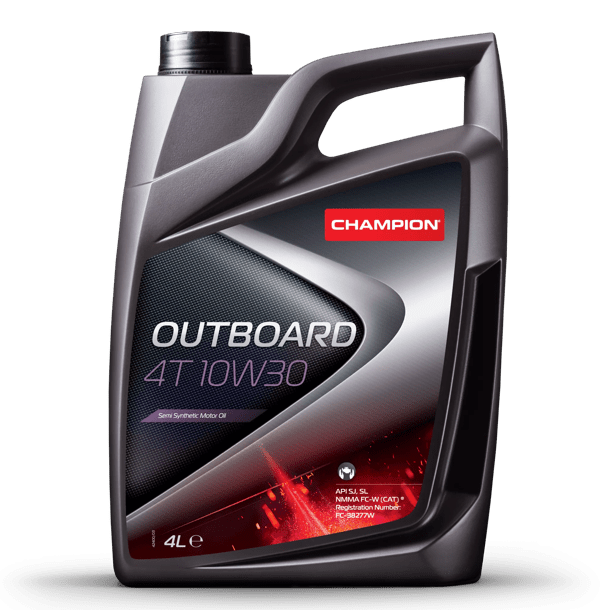 CHAMPION

OUTBOARD

4T 10W30
Semi Synthetic
This is a semi synthetic 4-stroke motor oil, which meets the requirements of NMMA FC-W. It contains molybdenum/zinc technology anti-wear package and provides strong protection against corrosion.
Product: 1925
Check your vehicle compatibility for more information
Type in your brand and model
Meets Industry Specifications
Description
This is a semi synthetic lubricant based on carefully selected highly refined base oils. This 4-stroke motor oil is specifically designed to meet the requirements of the NMMA FC-W specification. This oil procures an increased protection against corrosion, even in a salt water environment. It also contains a unique anti-wear package based on molybdenum/zinc technology.
Applications
This oil is specifically destined for the lubrication of modern 4-stroke outboard engines (e.g. Mercury Marine, Yamaha). It can also be used in older 4-stroke outboard engines.
Performance
This oil is based on selected base oils and special additives. It has very low volatility and good oxidation and corrosion stability, which ensure complete engine protection and long service life.
| Test | Method | Unit | Average Results |
| --- | --- | --- | --- |
| Density at 15°C | ASTM D4052 | g/ml | 0.855 |
| Kinematic viscosity at 40°C | ASTM D445 | mm²/s | 74 |
| Kinematic viscosity at 100°C | ASTM D445 | mm²/s | 12 |
| Viscosity index | ASTM D2270 | | 159 |
| B.N. (HCLO4 method) | ASTM D2896 | mg KOH/g | 7.4 |
| CCS viscosity at -25°C | ASTM D5293 | mPa.s | 4010 |
| Flash Point COC | ASTM D92 | °C | 220 |
We reserve the right to alter the general characteristics of our products in order to let our customers benefit of the latest technical evolutions.